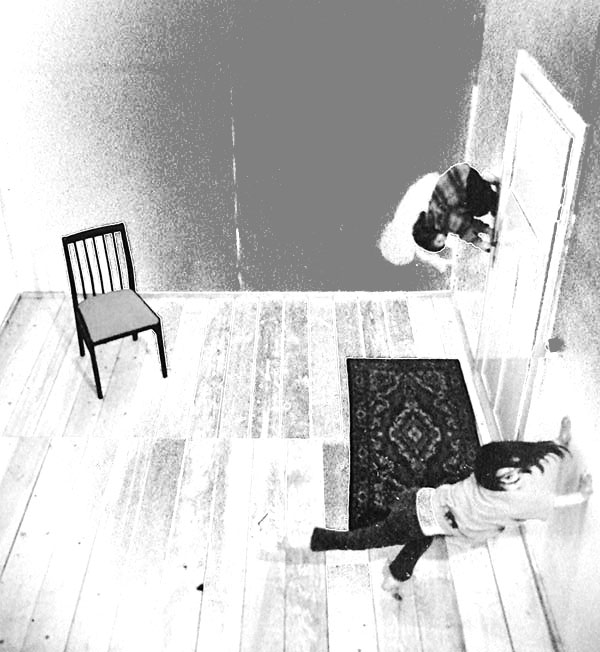 vertical
installation
2000

University of fine arts Dresden
vertical is the installation of a room within a room, shifted by 90 degrees, with the intention to investigate the influence of the disaccordance of visual and kinaesthetic perceptions on the experience of oneself in space.

It brought to the surface that visual perception is a very powerful means of giving orientation and able to dominate, but not, if the kinaesthetic perception of gravity comes into action.
"Es ist dem Raum wesentlich, 'je schon konstituiert' zu sein, und nie vermöchten wir ihn zu verstehen, zögen wir uns in eine Wahrnehmung ohne Welt zurück. Nicht gilt es, zu fragen, warum das Sein orientiert ist, warum die Existenz eine räumliche ist, warum der Leib nicht in allen Stellungen Anhalt an der Welt findet und warum seine Koexistenz mit der Welt die Erfahrung polarisiert und dergleichen wie Richtung entspringen lässt. Diese Fragen wären zu stellen nur, wenn diese Tatsachen lediglich Zufälle für an sich dem Raum gleichgültig gegenüberstehende Sublekte und Objekte wären. Die Wahrnehmungserfahrung zeigt uns, dass sie in unserer primordialen Begegnung mit dem Sein vorausgesetzt sind, dass Sein Orientiertsein heißt."

Maurice Merleau-Ponty in "Phänomenologie der Wahrnehmung"